Vassar College Memorial Minutes
Claflin, Agnes Rindge, 1900-1977 | Memorial Minute:
View
Finding Aid
Guide to the Eugene A. Carroll Papers, 1890-2014 (bulk 1944-2014)
Abstract
The Eugene A. Carroll Papers document Carroll's academic career as an art historian, curator, writer, as well as his involvement as executor of the William K. Rose estate. The papers contain professional and personal correspondence and include letters documenting Carroll's relationship with his partner, William K. Rose, during the 1960s. The W.K. Rose material also includes photographic prints, travel journals, a limited volume of subject files and writings by Rose, and one audio tape interview. The Carroll Papers contain subject files, including teaching and research reference materials, travel files, datebooks, writings by Carroll, correspondence with colleagues, friends, and Rose, as well as a limited volume of correspondence from Carroll to his parents. Holdings also include journals, photographic prints, and documentation regarding the management of the Rose estate and Vassar's W.K. Rose fellowship.
View
Vassar College Memorial Minutes
Scaravaglione, Concetta, 1900-1975 | Memorial Minute: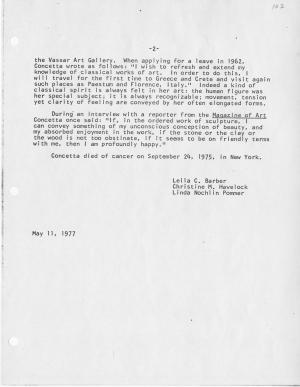 View
Subscribe to Nochlin, Linda